The
Supreme Court ruled
that the Phelps family has the same rights as Nazis and Klansmen to speak their small, narrow minds. I still resent them evading taxes by calling themselves a church. You and I are subsidizing their hate speech because we are afraid to tax all churches.
This piece in Slate
explains how this group of anti-gay activists can get away with calling themselves a "church" and avoid taxes. It's a good piece, objectively raising the question of why our tax system subsidizes a hate group:
Like all incorporated churches in the United States, the WBC (Westboro Baptist Church) conducts the majority of its activities tax-free under the 501(c)(3) provision—which is rather odd, when you think about it, since part of the 501(c)(3)/nonprofit deal is that churches must accept restrictions on political engagement. This raises the question: Why is the Church tax-exempt?

Because they avoid direct advocacy. Nonprofits are allowed to hold opinions on public issues, of course. Only overtly political activities (electioneering, for example) are forbidden. The easiest way to lose 501(c)(3) protection is to contribute to a candidate's campaign, whether through funding, stated support, or the contribution of office space. But the WBC has never made such mistakes. While Phelps and company do target specific political figures such as Hillary Clinton and Al Gore, they keep their criticisms ad hominem (Gore is apparently a "famous fag pimp").
According to
the IRS
,
Congress has enacted special tax laws applicable to churches, religious organizations, and ministers in recognition of their unique status in American society and of their rights guaranteed by the First Amendment of the Constitution of the United States.
Their "unique status in American society." That's what separates them from other charity groups. A church doesn't have to do a lick of charity work and it still pays no taxes.
I repeat: A church doesn't have to do a lick of charity work and it still pays no taxes. Why? Because religion is always good. Do you buy that? I don't. Certainly not after seeing the Westboro Baptist congregation picketing military funerals and disrupting Matthew Shepard's funeral. I don't think that's a good church.
People will want to do something about these tacky bastards, but then it puts the IRS in the position of picking "good churches" and "bad churches" and the First Amendment definitely prohibits any favoritism in that regard.
The answer is to remove the 501(c)(3) exemption for religion entirely. Currently, to qualify for tax-exempt status,
the IRS says
an organization must meet the following requirements:
■ the organization must be organized and operated exclusively for religious, educational, scientific, or other charitable purposes,
■ net earnings may not inure to the benefit of any private individual or shareholder,
■ no substantial part of its activity may be attempting to influence legislation,
■ the organization may not intervene in political campaigns, and
■ the organization's purposes and activities may not be illegal or violate fundamental public policy.
If you took the word "religious" out of the first sentence, it would stop the government handouts to professional tax cheats and hate groups like WBC, Pat Robertson, etc. It would not hurt ACTUAL charitable organizations like the United Way and the March of Dimes.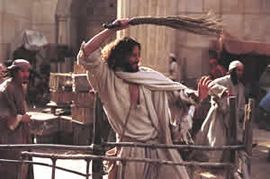 jesus hated banks, not gays
If a church wants to cut its tax liability, it can open an orphanage - we'll share in that investment. It can open a soup kitchen, it can start an AIDS research center, or it can buy pencils for public school teachers. What it can't do is be a big fat homophobic army of dickwads and not pay any taxes just because religion is "unique."
And then there's the equal protection problem - can I start a 501(c)(3) atheist group that is not charitable, scientific or educational? Clearly not, as an atheist group would be by definition
not religious
. If we just want to get together and rag on christians, we have to pay taxes. Christians, however, are free to get together 3 times a week and rag on us.
In one of the many versions of the bible, Jesus supposedly says, when challenged on the issue of whether his group of jews should have to pay taxes to Roman authorities when their only real boss is god, "Ἀπόδοτε οὖν τὰ Καίσαρος Καίσαρι καὶ τὰ τοῦ Θεοῦ τῷ Θεῷ." - or for those of you who don't read whatever the fuck that is, "Render unto Caesar the things which are Caesar's, and unto God the things that are God's" (Matthew 22:21).
Jesus probably never said it, of course, as the bible we know was written
by a committee of englishmen in the 17th century
after being passed on by word of mouth and various dead languages for, well, 17 centuries. Plus everybody and their half-wit brother has their own opinion as to what the quote means.
The truth is, nonetheless, that the acceptance of a separation of church and state inspired by that verse has been the secret to the great success of judeo-christianity. Smart people interpreted the "render unto Caesar" phrase as saying "don't get involved in politics, religion is a personal spiritual mater."
Theocracies fail. Religion and politics spoil each other.
So taxing all churches is the only fair way. It violates the establishment clause to favor religion categorically by exempting purely religious income from taxation. It is unfair to mental health providers who do a better job straightening people out and have to pay taxes. It is unfair to atheists and agnostics (15% of the US population) whose expenses for artistic pleasures and mental health services are not tax-exempt.
And it allows groups of odious freaks like scientologists, the WBC,
polygamists
mormons, and
child molesters for jesus
catholic priests to dodge taxes.
Hey, wait a minute, maybe Bank of America is actually a church. That explains it.

for the love of god, donate to these folks instead!